Mobile phones have truly revolutionized the world, closely binding people across the globe. So, bring in the festival of lights with this technological advancement and lighten up the faces of your loved ones. Making it easier, we present the top ten phones to gift this festive season.
Nokia N97:
The Nokia N97 has been the highly anticipated smartphone of the year. Though the device cannot be termed 'compact,' the integrated applications make it an ideal smartphone for those on the move. This slick device sports a 3.5-inch touchscreen display that offers 640 x 360 pixels resolution. The Nokia handset presents a whooping 32GB of internal memory along with a microSD memory card slot that supports up to 16GB. The smartphone measures 117.2mm x 55.3mm x 15.9mm and weighs around 150 grams. For GSM handsets, it offers a talktime of 570 minutes and standby time of up to 430 hours. However, the WCDMA device provides 360 minutes of talktime and 400 hours of standby time. This QWERTY phone boasts of a 5.0 megapixel camera with Carl Zeiss optics. The camera incorporates automatic geo-tagging capability for photos and videos. The entertainment package of the Nokia N97 includes stereo FM radio and RDS support, Nokia Nseries Music Player as well as the Guitar Rock Tour game. Besides, the smartphone is also equipped with GPS, A-GPS receivers and Nokia Maps. To make communication easier, the N97 presents email web widget and supports SMTP, IMAP4, POP3, MMS, SMS and Unified SMS/MMS editor. Further, it also features Bluetooth version 2.0 with Enhanced Data Rate. To grab this Nokia masterpiece, users need to shell out Rs. 33, 500.
HTC Hero: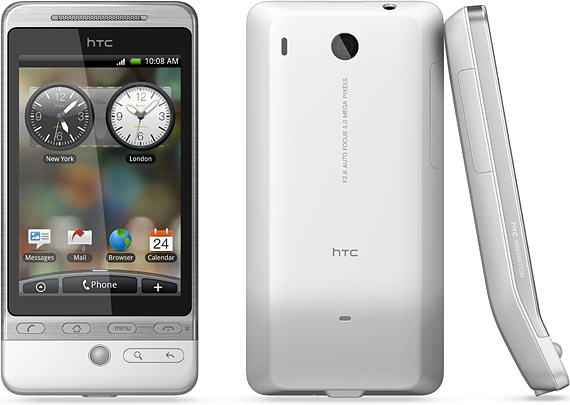 Next in our list is the Android powered HTC Hero which hit shelves in India recently. It flaunts a 3.2-inch HVGA display and a distinct HTC Sense UI. Catering to the needs of the current age social networking addicts, the handset enables users to view their friends' Facebook status updates and photos along with Flickr photos, text messages, emails and call history in a single view. It also features a dedicated search button. This heroic device can be purchased for Rs. 34,600 in Maharashtra and Rs. 31,990 in other parts of India via authorized HTC resellers.
Samsung UltraTouch:
Keeping up with the fast paced touch-age is our next pick, the Samsung UltraTouch. Now-a-days every mobile phone that is capable of playing music or hoarding games is termed as a multimedia device, but this one we bet is a truly multimedia handset. An 8 megapixel sensor makes it all the more desirable. Apart from the media player, FM radio and embedded java games, the camera phone comes with DivX video player support for an enhanced multimedia experience. It boasts of a startling 7.1cm Amoled anti-scratch full touchscreen offering 240 x 400 resolution. The sleek handset measures 110mm x 51.5mm x 12.7mm and weighs around 118 grams. The slider offers a decent battery life with 7 hours of talktime and up to 340 hours of standby time. The UltraTouch packages the highly admired TouchWiz user interface that makes browsing and navigating easier than before. The Samsung mobile phone can be purchased for Rs. 27,500.
Sony Ericsson Xperia X1:
his Sony Ericsson phone has successfully gathered accolades across the globe. The unique X1 provides fully functional nine panels in a sleek stainless steel body. The slider packages a 3-inch VGA resolution screen along with a full QWERTY keyboard. The handset packages functionalities that are typical of Windows Mobile driven devices. It can be termed as a business oriented handset that comes equipped with Microsoft Office Mobile, Word, Excel and PowerPoint. The X1 comes with a heavy price tag of Rs. 44,500.
Samsung Star 3G:
The next one in the lineup is a 3G enabled handset, Samsung Star 3G. This complete package features an MP3 player which supports multi-format music files and FM Radio with RDS to tune into 24-hour music. Experience full touch navigation with 2.8" LCD which provides crystal clear QVGA resolution. To elevate the fun, it incorporates embedded Java games and offers Podcasting capabilities. The quad band handset offers an amazing talk time of 8 hours and standby time of up to 365 hours. Capture your life's precious moments with the 3.2 megapixel camera powered with digital zoom and LED flash capabilities. Being priced just at Rs. 12, 000, it is worth the money spent.
BlackBerry Curve 8520:
This BlackBerry smartphone comes with a high resolution display and an average 2 megapixel camera with 5x digital zoom. The QWERTY handset is equipped with a trackpad that makes navigation easier. The corporate honchos can easily access their e-mails, besides that the device supports AOL Mail, Gmail, Yahoo! Mail and Windows Live. They can also view as well as edit Microsoft Word, Excel and PowerPoint files while on the move. The smartphone is reasonably sturdy and offers 4.5 hours of talktime and 17 days of standby time. Some other specifications include Wi-Fi, Bluetooth 2.0+ EDR and Bluetooth media player. The smartphone is offered for Rs. 15,990. However, it is claimed that the price may vary depending upon the VAT.
LG Arena:
LG unveiled several touchscreen devices this year, but the Arena seems to be appealing with its innovative S-Class Touch UI that is complemented with a huge display. The handset sports a 5 megapixel auto focus camera featuring Schneider-Kreuznach optics, LED flash and geo-tagging functionalities. The mobile phone supports Quad-band GSM/GPRS/EDGE and incorporates HSDPA with 7.2 Mbps data transmission speed. The 3G enabled touch phone packages Wi-Fi and GPS receiver powered by A-GPS. Further, it is equipped with 8GB storage capacity and Bluetooth 2.0 with A2DP. The LG Arena can be purchased for Rs. 23,500.
Motorola MotoRokr E8:
Much to a music lover's delight, the MotoRokr E8 rhythmically makes it to our pick of phones. Exploiting the ModeShift technology from Motorola, it instantly transforms the music player to a phone to an imaging device just with the touch of a button. This handset marks the debut of the first haptic touchpad from Motorola which offers vibrating, tactile feedback when you touch the virtual buttons. The Rokr comes with a 2.0″ QVGA display with a resolution of 240 x 320. This quad band handset weighs just 100 grams. With 2GB of internal memory, you can maintain a library of songs, images and contacts. You can experience flawless voice with the Crystal Talk technology. Enjoy uninterrupted music while flying, even without a SIM card, just by switching to air mode. This music phone is retailed for Rs. 12,500.
Sony Ericsson W995:
The W995 is said to be a fusion of Walkman series and Cybershot. The hybrid is very well presented in a sleek form factor. Entertainment is endless with the W995, it incorporates Media Go that automatically transfers any audio, photos and videos between your phone and computer. It is built with (240 x 320 pixels) 2.6-inches display. The power packed device revives the photographer within you with its massive 8.1 megapixel camera with up to 16x digital zoom. The camera is fully equipped with photo fix, picture blogging, auto-focus, face detection, photo flash and video recording capabilities. The W995 is inclusive of an 8GB memory stick. The handset costs around Rs. 30,000.
Nokia N86:
The Nokia N86 boasts of a 2 way slider form factor and a 2.6-inch (320 x 240 pixels) QVGA display. The quad band device captures stunning images on an 8 megapixel camera that features wide-angle Carl Zeiss optics. It is equipped with A-GPS receiver, Bluetooth version 2.0 as well as Nokia Maps 3.0 application. As far as entertainment is concerned, the handset packages the Nokia Nseries digital music player, FM radio 87.5-108 MHz with RDS support, Nokia Podcasting support and is inclusive of integrated stereo speakers. The Nokia handset incorporates BL-5K 1200 mAh Li-Ion battery that offers 6.3 hours of talktime on GSM device and 3.9 hours on WCDMA handsets. However, the standby time is 315 hours for GSM and 275 hours for WCDMA mobile phones. The N86 can be purchased for Rs. 24,000.